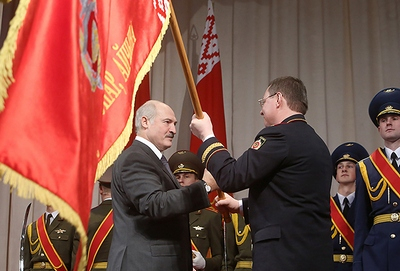 The State Forensic Examination Committee began its work July 1, 2013. The State Committee was established by Presidential Decree number 202 of 22 April 2013 with the aim of creating the conditions to ensure the independence of the expert work and enhance its effectiveness. The structure was created on the basis of the State Service of medical forensic examinations and expert divisions of internal affairs bodies, agencies and departments for emergency, the Armed Forces and expert divisions of the Ministry of Justice of the Republic of Belarus.


Main aims
— implementation of unified state policy in the field of forensic activities, including its scientific and methodological support;
— training, retraining and qualification of experts, researchers and other employees within the competence;
— forensic expert activities;
— determination of the main directions of improving forensic expert activities and their implementation, practical application of science and technology, positive experience, innovative forms and methods of forensic expert studies;
— international cooperation in the field of forensic expert activity organization and development.
Main functions
— implementation of forensic examinations on criminal, civil, administrative and economic cases as well as probative materials on crime reports;
— implementation of examinations (researches) on materials of state authorities, including authorities conducting inquiry, investigative work and state authorities and agencies conducting supervisory activities in accordance with the procedure and cases established by legislative acts and regulations of the Council of Ministers of the Republic of Belarus;
— implementation of examinations on citizens' questions, including individual entrepreneurs, and legal entities ones;
— conformity of the service and civilian weapons and their ammunition in compliance with the technical normative legal acts in the field of technical standardization on a contractual basis;
— overseeing the quality of care by health organizations regardless of ownership and departmental affiliation;
— performing other functions stipulated by legislative acts.